Broad Landscape Types and Character Areas
Broad Landscape Types are landscapes which share broadly similar combinations of geology, topography, drainage patterns, vegetation and historical land use and settlement patterns. The County Durham Landscape Character Assessment identifies 23 Broad Landscape Character Types.
North Pennines
Dales Fringe
West Durham Coalfield
Wear Lowlands
East Durham Limestone Plateau
Tees Lowlands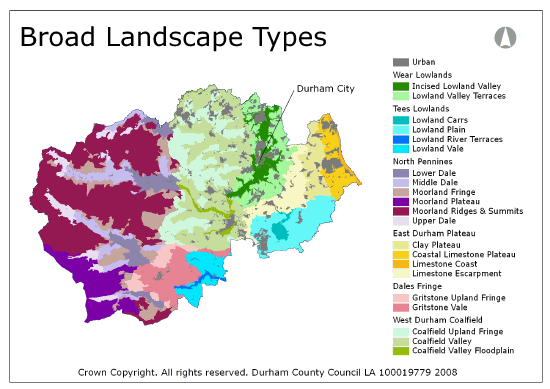 View interactive map of Broad Landscape Types
Broad Landscape Types are 'generic' in nature in that they may occur in different parts of the county. For example the Upper Dales landscape type occurs in a number of places in the North Pennines. In addition to Broad Landscape Types the assessment also describes a number of Broad Landscape Character Areas. These are single unique areas – geographically discrete examples of a particular landscape type. So for example Upper Teesdale, Upper Weardale and Upper Lunedale are all broad character areas which belong to the broad type 'Upper Dale'.