Incised Lowland Valley
View interactive map of Broad Landscape Types
Key Characteristics
Incised valley landscape of gorges, denes, river floodplains and steep bluffs.
Carboniferous rocks are masked by thick deposits of glacial drift.
Sandstones, shales and thin coal seams outcrop very occasionally in gorges.
Meandering rivers with alternating riffles and pools.
Varied soils – alluvial soils, brown sands, and heavy clays.
Mixed farmland – pasture on steeper ground and arable cropping on floodplains.
Semi-regular patterns of old enclosures bounded by hawthorn hedges.
Abundant hedgerow oak, ash, sycamore and beech.
Heavily wooded – ancient oak woods in river gorges, denes and bluffs.
Numerous ornamental parklands and areas of wooded estate farmland.
Occasional older 'green villages' of stone and clay pantile.
Landmark buildings including Durham Cathedral and Castle.
Numerous bridges and viaducts from the ancient to the modern.
An enclosed landscape, intimate in scale, with occasional dramatic vistas.
A settled but tranquil rural landscape of great scenic quality and a rich cultural heritage.
Description
The River Wear and its tributaries lie in narrow gorges and denes that open up onto broad floodplains overlooked by steep bluffs. Carboniferous rocks of the coal measures are buried beneath thick layers of glacial drift, laid down over several periods of glaciation. Sandstones, shales and thin coal seams outcrop occasionally in the deeper gorges. Most valleys cut down through boulder clays and sand and gravel beds. Rivers meander across flat alluvial floodplains with alternating riffles and pools, or course over rocky beds in gorges and denes.  Soils are heavy clays and lighter brown sands, with alluvial soils on the floodplain haughs.
Agricultural land use tends to reflect the topography, with pasture on steeper ground and arable cropping – mostly of cereals and oil-seed rape – on floodplains and gentler slopes. Field boundaries are hawthorn hedgerows. Field systems are semi-regular in pattern, and most date from the enclosure of the common arable fields, pastures and meadows of older villages in the 1600s and early 1700s.
The landscape is rich in trees with abundant hedgerow ash, oak, sycamore and beech. It is also heavily wooded with ancient oak woodlands in gorges and denes and on the steeper floodplain bluffs. Narrow riparian woodlands of alder and willow follow rivers and streams. The valleys contain numerous ornamental parklands and areas of wooded estate farmland surrounding country houses and castles. Some are of medieval origins; many were developed extended or redesigned in the 18th and 19th centuries.
The valleys were historically worked from villages on the surrounding terraces, but a small number fall within the incised valleys – buildings of stone or brick with roofs of clay pan tile cluster around a central village green. The city of Durham occupies a strategic site on an incised meander, its castle and cathedral important landmarks over much of the valley. The valleys have a long association with the church and contain other ecclesiastical buildings including the ruins of Finchale Priory.
As part of a major north-south communications route the valleys contain many river and valley crossings – bridges from many different periods cross the rivers and railway viaducts span the denes and gorges.
The landscape is intimate and enclosed being both heavily wooded and contained by its topography. There are occasional dramatic vistas across the valleys to landmarks like Durham Cathedral. Although part of a densely settled lowland valley, the incised valleys tend to be relatively tranquil and rural in character, with great scenic qualities and a rich cultural heritage.
Broad Character Areas
The Incised Lowland Valley landscape type is represented by five Broad Character Areas.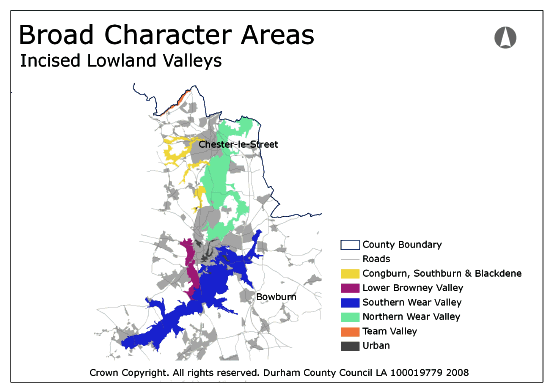 View interactive map of Broad Character Areas
Congburn, Southburn and Blackdene. A series of incised woodehttps://durhamlandscape.info/durham-landscape/10431?Layer=3d denes flowing from the coalfield valleys in the west to the River Wear between open arable farmland of the surrounding river terraces with which they are closely associated. The denes contain ancient oak woodlands, in places replanted with conifers, and some areas of open birch woodland and heath. Parts of the Twizell burn have been affected by mineral workings and contain areas of reclaimed land.
Lower Browney Valley. The River Browney carves an incised course in a narrow valley between Durham City and the village of Langley Moor. Steeper valley sides and low bluffs are covered in broadleaved woodlands or pasture with scattered trees and scrub. Tree lines follow the river. Gentler valley slopes and small areas of floodplain are largely arable farmland with low clipped hedges and few hedgerow trees.
Southern Wear Valley.  The River Wear meanders across a broad floodplain bordered in places by steep wooded bluffs divided by tributary denes. The riverbanks are open, or lined with trees, and occasionally backed by low levees. The open arable farmland of the floodplain is made up of large fields bounded by low clipped hedges with few trees. Wooded parklands at Brancepeth, Whitworth, Croxdale and Burn Hall lie along the edges of the floodplain. Open arable farmland and the parkland of Sherburn Hospital lie in the tributary valleys of the Sherburnhouse and Whitwell becks in the east.
Northern Wear Valley. The River Wear lies in deep steep-sided wooded gorges, opening out in places into a broader valley with small areas of floodplain. The valley slopes are largely wooded arable farmland with frequent coniferous and broadleaved plantations, low clipped hedges and scattered hedgerow oak and ash. There are parklands and areas of heavily wooded estate farmland at Lambton Castle and Lumley Castles. The ruins of Finchale Abbey lie in the wooded gorge. Durham City lies to the south of the character area, its castle and cathedral towering above the wooded gorge which runs through the city. The large town of Chester-le Street lies to the north of the character area, its parks and playing fields spreading onto the floodplain, from where Lumley Castle is a notable landmark.
Team Valley. The River Team meanders across a narrow floodplain fringed by low wooded bluffs. The woodlands of the bluffs are ancient oak woods, some of which have been re-planted with conifers. The floodplain is pastoral, with large fields of improved pasture and occasional ponds. In its upper reaches the river lies in the steep sided wooded gorge of Ousbrough woods, its narrow valley floor containing the remains of early water-powered forges.
Local Landscape Types
Local Landscape Types and sub-types are identified at a detailed level and reflect localised variations in landscape characteristics. A map of the Local Landscape Types and sub-types for the Incised Lowland Valley Broad Landscape Type can be downloaded as a PDF below:
Local Landscape Types – Incised Lowlands Map (PDF, 924kb)
Alternatively you can view an interactive map of Local Landscape Types for the whole of the Wear Lowlands County Character Area.
For a written description of the Local Landscape Type and sub-types for the Wear Lowlands County Character Areas download the following PDF:
Wear Lowlands Local Landscape Types (PDF, 713kb)
Further Information
Further Broad Landscape Types with in the Wear Lowlands
or