Limestone Escarpment
View interactive map of Broad Landscape Types
Key Characteristics
A low escarpment, deeply dissected in places to form a series of short valleys between well-defined spurs.
Occasional steep sided incised valleys and glacial melt-water channels.
Gently rounded topography of soft magnesian limestones covered in places by glacial drift.
Thin calcareous soils over limestones with heavier clays on boulder clay and brown earths on glacial sands and gravels.
Open, predominantly arable farmland, with pasture on steeper slopes.
Remnants of limestone grassland on the thin soils of scarp slopes, spurs, ridge tops and incised valleys.
Varied limestone plant communities in abandoned limestone quarries.
Semi-regular patterns of medium and large-scale fields bounded by low, clipped hawthorn hedges.
Few trees – thinly scattered hedgerow ash.
Sparsely wooded – ancient ash woodlands and areas of hawthorn scrub on steep spurs and vale-sides.
Occasional small 'green' villages on ridge tops and valley floors. Scattered mining towns and villages.
Large limestone quarries often in prominent locations on ridges and spurs.
A visually open landscape with panoramic views across the surrounding lowlands.
Rural in character in places but with a semi-rural or urban fringe quality in settled areas.
Description
A low escarpment, deeply dissected in places to form a series of short valleys between well defined spurs, but forming a simpler low ridge elsewhere. Soft and easily weathered creamy yellow magnesian limestones (dolomites) and sands form gently rounded, convex slopes. They are overlain in places by boulder clays, or locally by glacial sands and gravels that give rise to a more undulating terrain.  There are occasional steep-sided glacial melt water channels that cut down into valley floors or breach the escarpment ridge. Valleys are often dry in their upper reaches and there are occasional springs at the base of the scarp. Watercourses are small and inconspicuous. Soils are diverse, with thin calcareous soils over limestone outcrops, heavier neutral clays on glacial boulder clay and free draining brown earths on sands and gravels.
Agricultural land-use is mixed but predominantly arable, with pasture generally restricted to the steeper slopes. Field boundaries are hedgerows, or, very occasionally, low limestone walls. Hedges are usually clipped low and dominated by hawthorn.  Field patterns are semi-regular in pattern and most date from the enclosure of the common town fields of the older escarpment villages in the 1600s.  There are remnants of old, flower rich limestone grasslands – with Blue Moor-grass, Sheep's Fescue and herbs such as Wild Thyme and Common Rockrose – on the thin soils of scarp slopes, spurs, incised valleys and ridge tops.
Tree and woodland cover is low. The landscape is generally very open with thinly scattered hedgerow ash and sycamore. Ancient ash woods and areas of hawthorn or gorse scrub are found on steeper spurs and valley sides. There are patches of scrub in and around abandoned limestone quarries and colliery land, and a few areas of mature plantations associated with former parklands.
Old agricultural villages are found on ridge tops and valley floors. Buildings are of local limestone or sandstone from the nearby coal measures with roofs of clay pan tile or welsh slate and are typically set around a central village green. Mining villages and small towns are scattered irregularly across the escarpment, some having absorbed older villages. They are made up of buildings from a number of periods including Victorian terraced housing of red brick and slate, estates of the inter-war and post-war public housing and more recent private development. Settlement edges are abrupt or fringed by allotment gardens and pony paddocks.
The magnesian limestone of the escarpment has been worked for building and agricultural lime since the Middle Ages, and more recently for construction aggregates and refractory products. Large active and abandoned quarries are prominent features in the landscape. Many older quarries have naturally re-vegetated and contain very diverse limestone plant communities. Coal mining has also had a substantial influence on the landscape, although much of its legacy has been removed by land reclamation in recent years. Areas of land restored to open agricultural land or coniferous forestry are found around the colliery villages. The escarpment is crossed by the A1 (M), the east coast main line and major overhead transmission lines.
The landscape is visually open and broad in scale with panoramic views out across the Wear Lowlands to the east and the Tees Lowlands to the South.  Within the escarpment valleys it is often more enclosed and intimate in scale. In places it has a very rural character, but generally its frequent mining villages, quarries and waste disposal sites, busy roads and overhead services give it a semi-rural or urban fringe quality.
Broad Character areas
The Limestone Escarpment landscape type is represented by three Broad Character Areas.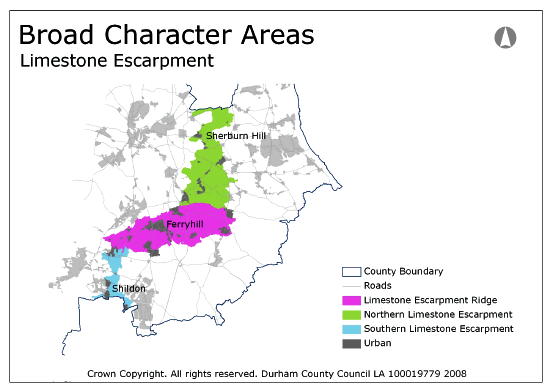 View interactive map of Broad Character Areas
The Limestone Escarpment Ridge.  A low escarpment with moderately sloping scarp slopes and more gently undulating dip slopes, divided by the steep-sided gorge of the Ferryhill Gap. A patchwork of arable and improved pasture, predominantly arable in the east, with old pre-enclosure field systems which are locally fragmented. Field boundaries are hedges, usually clipped low, with few hedgerow trees. There are occasional limestone walls, notably in the medieval deer park of Bishop Middleham. An open landscape with little woodland other than the young plantations of reclaimed colliery land, and ancient ash woods which line the gorge. Old green villages and hamlets on the ridgetop (Kirk Merrington, Westerton) and in the fringes of the carrs to the south (Bishop Middleham, Mainsforth) are connected by narrow winding lanes. Larger colliery villages lie on the ridgetop (Ferryhill, Cornforth) and the southern dipslope (Chilton, Fishburn). Large limestone quarries are found on the ridge in the east: the chimney of Thrislington Quarry is a prominent landmark. The ridge is crossed by the A1(M) and busy trunk roads.  There are commanding views across the Wear Lowlands from higher ground. To the south the Cleveland Hills form a strong distant horizon.
The Northern Limestone Escarpment.  A deeply dissected low escarpment of well defined spurs and valleys running northwards along the edge of the Wear lowlands. A patchwork of arable fields and improved pastures, with areas of limestone grasslands on the steeper slopes of spurs and valley sides. Field systems are generally pre-enclosure with old hedges, clipped low, or tall and overgrown, and few hedgerow trees. Ancient ash woodlands are found occasionally on steep slopes but woodlands are generally sparse. There are areas of hawthorn or gorse scrub on steeper slopes. Valley floors are incised in places by shallow denes, or flat-floored glacial melt water channels containing semi-improved pastures and areas of scrub. Colliery villages are scattered across the escarpment, often on prominent ridgetop or valley side sites (Sherburn Hill, Quarrington Hill, Kelloe). Active and abandoned limestone quarries are a regular feature of the landscape. The large quarry face of Cornforth (Raisby) Quarry is a notable landmark.
The Southern Limestone Escarpment.  The limestone outcrops along the edge of the Wear valley in a landscape which is transitional in character between the Limestone Escarpment and the Coalfield Valleys. An open landscape of arable farmland in shallow valleys falling to the Wear or on low gently sloping ridge-tops between the villages of Coundon and Shildon.
Local Landscape Types
Local Landscape Types and sub-types are identified at a detailed level and reflect localised variations in landscape characteristics. A map of the Local Landscape Types and sub-types for the Limestone Escarpment Broad Landscape Type can be downloaded as a PDF below:
Local Landscape Types – Limestone Escarpment Map (PDF, 1006kb)
Alternatively you can view an interactive map of Local Landscape Types for the whole of the East Durham Limestone Plateau County Character Area.
For a written description of the Local Landscape Type and sub-types for the East Durham Limestone Plateau County Character Areas download the following PDF:
East Durham Limestone Plateau (PDF, 1Mb)
Further Information
Further Broad Landscape Types with in the East Durham Limestone Plateau
or