Methodology
Issues and Objectives
The topic-based sections of the Landscape Strategy – Broad Issues, Land Management and Development – were produced through a process of desk-top study of published material followed by a series of structured workshops with a wide range of stakeholders facilitated by consultants The Planning Co-operative in 2003.
The character area-based sections of the strategy were based on an analysis of the assets and attributes of individual character areas including:
Landscape Designations
International Nature Conservation Designations
National and Local Nature Conservation Designations
Biodiversity Action Plan Priority Habitats and Species
Habitat Networks
Ancient Woodlands
Earth Heritage Designations
Archaeological Sites and Monuments
Built Heritage Designations
Historic Parks and Gardens
Access, Recreation and Tourism
Water Resources
Agricultural Land Classification
Trends and pressures affecting those assets and attributes were analysed along with any environmental initiatives, plans or strategies currently addressing them. Key issues and objectives and a series of strategy options were identified on that basis, and tested through a second series of more focussed stakeholder workshops.
Spatial Strategies
Spatial strategies were developed through an analysis of Local Landscape Types and Subtypes in the Landscape GIS database, informed by the objectives and strategy options identified for the relevant County Character Areas. In some cases other information from the landscape database (such as the presence of a scheduled monument) would influence the strategy.
Each Landscape Description Unit (LDU) in the database was assigned one of six strategies: conserve, conserve and enhance, conserve and restore, restore, restore or enhance, enhance. This approach to strategy formulation was based on the understanding that the strategy should identify both the amount of change desirable in the landscape, and the broad direction that change should take.
In a landscape which has many valued attributes and which is in good condition, little change may be desirable and the appropriate strategy will be to conserve its existing character. In a landscape which has few valued attributes and/or is in poor condition, a higher degree of change may be desirable. The strategy adopted will depend on whether it is more appropriate to restore the landscape back to its former character or to enhance it by developing entirely new features or characteristics.
For landscapes which have some valued attributes but which are in poor condition the appropriate strategy may be to conserve and restore, or conserve and enhance their character. For landscapes with few valued attributes where either restoration or enhancement might be equally appropriate, a strategy of restore or enhance might be adopted.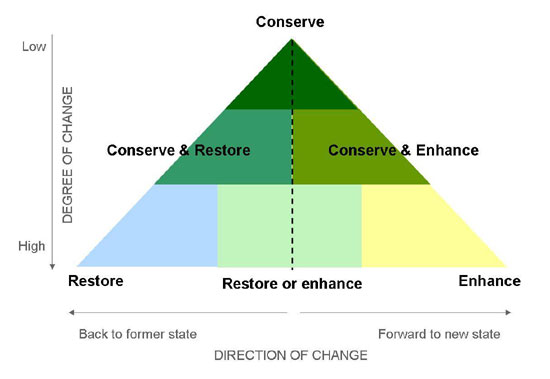 Examples:
| Local Type | Subtype | Strategy |
| --- | --- | --- |
| Lowland woods | Ancient woods | Conserve |
| Lowland woods | Modified ancient woods | Conserve and restore |
| Lowland woods | Plantation | Conserve and enhance |
| Plain farmland: open arable | Modern field system | Enhance |
| Plain farmland: open pasture | Plain farmland: open pasture | Plain farmland: open pasture |
| Coastal arable | Open | Restore |
These strategies give only a broad indication of the extent and direction of change that might be desirable. More detailed guidance on the kind of change appropriate to different landscape types is given in the Landscape Guidelines.
Landscape Conservation and Improvement Priority Areas
Spatial Strategies can also be used to identify broader Landscape Conservation Priority Areas and Landscape Improvement Priority Areas. While there may be scope for conservation and improvement in all landscapes in varying degrees, the distinction between those where the emphasis is on conservation and those where the emphasis is on improvement can be useful for landscape planning.
Those landscapes with strategies of conserve, conserve and restore, and conserve and enhance are identified as Landscape Conservation Priority Areas and those with strategies of restore, restore or enhance, and enhance are identified as Landscape Improvement Priority Areas.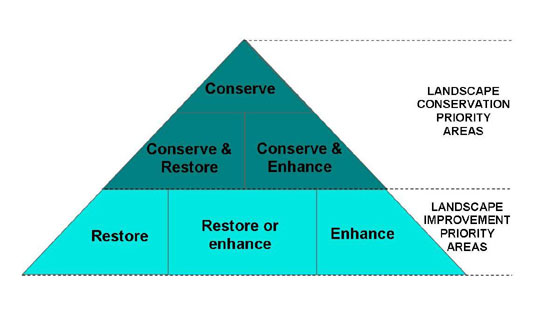 Consultation
The Strategy was published as a consultation draft in 2004 on the Durham County Council website. Feedback from the consultation process was taken into account in preparing the final document, as were changes in relevant published polices or strategies as well as information on landscape change emerging from the Countryside Quality Counts initiative.