Environmentally Sensitive Areas
The Pennine Dales ESA covers a number of upper dales in Durham. Their value lies in their old hay meadows and pastures, stone walls, field barns, small woods and field trees. They contain valuable wildlife habitats, a rich archaeological resource and a landscape of strong character, all dependent in some degree on traditional farming practices.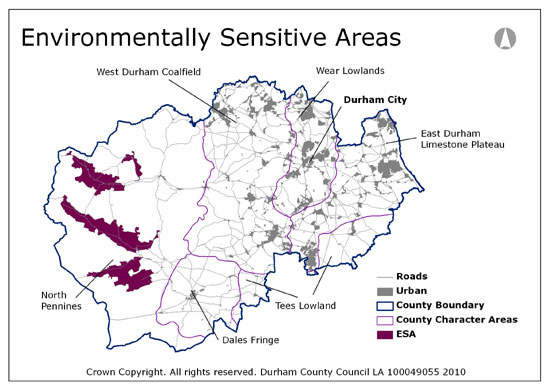 The ESA scheme is administered by the Department of Environment, Food and Rural Affairs (DEFRA) which offers incentives to adopt agricultural practices which safeguard and enhance the rural environment and to improve public access.
The scheme has now closed to new applicants and has been superseded by the Environmental Stewardship scheme. Some existing agreements will, however, continue until 2014.
Further Information
The boundaries of the Pennine Dales ESAs are available to view and download from the Multi-Agency Geographic Information for the Countryside (MAGIC) website.